Interview: Managing Director and Game Producer, Yurii Fil, speaks with Bigwinboard on our latest release, Bison Battle.
Bison Battle is our first exciting game release of the year, with many more to follow. Take a look at what our Managing Director and Game Producer, Yurii (George) Fil had to say about this to Bigwinboard.
What is the inspiration for Bison Battle?
The inspiration for Bison Battle originally came from the popular land-based theme, and a firm favourite among players, that of Bisons and North America. These, along with that of animals generally, are highly popular, particularly in Las Vegas and we wanted to create a unique slot that gives off the same type of sentiment, with a distinctive twist on the mechanics themselves.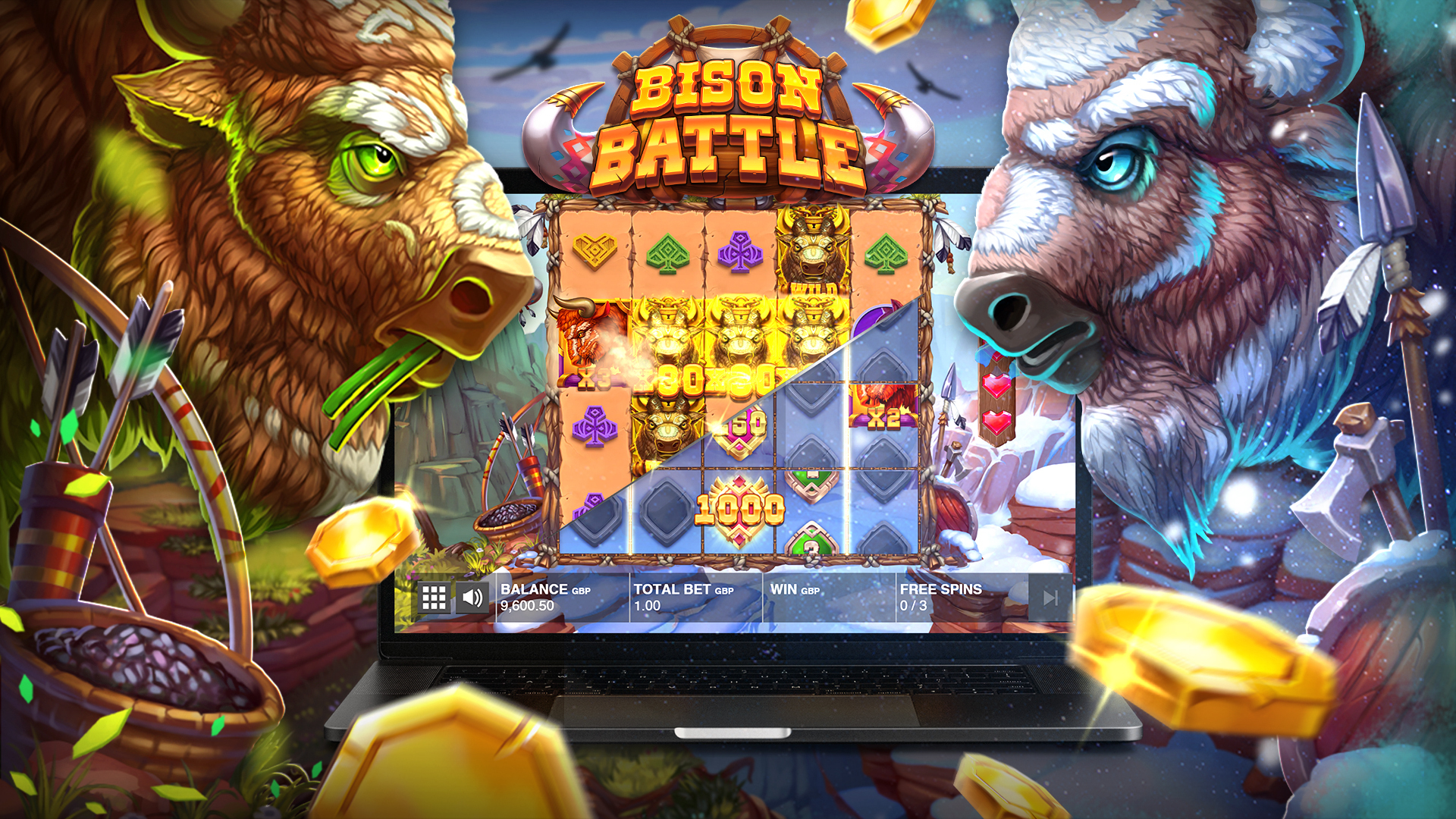 Push Gaming is famed for adding its own twists to classic themes – what have you included this time around?
Yes, that's true. With every game we create we always try to offer something both fun and unique for players to try out. For Bison Battle, as you know, the theme is a classic and already very popular among players. Therefore in this case, we tried to differentiate through the art style and the mechanics.

Throughout the game, there is always something to look forward to with plenty of opportunity for exciting things to happen as the Walking Bison Symbols move across the reels with every spin. So players will have at least five chances for the unexpected to take place before the special symbols fall off the reels.

When it came to the art, the animal theme itself is also quite popular, so we added our own unique twist to this by really trying to immerse players in the different environments of the game. The styling of the animals is very geometric and clean, and we incorporated native patterns on their silhouettes to give both a modern touch and a mystical feel.

What kind of features can we expect? What else can players expect to get excited about?
There's lots to look forward to when playing Bison Battle - right from the very first spin - you won't want to take your eyes off what is happening!
Despite having a Bonus Buy Feature available, the Base Game itself is highly eventful as Red Bison can bring about fantastic wins depending on where they land. These can be Instant Prize Coins and Multipliers that deliver wins of up to 25,000x! If two Red Bisons collide, then you'll get to witness a dramatic Bison Clash where Multipliers explode!
The game also takes players to two different types of environments as they explore the beautiful canyons of North America - a Sunny Green Valley or a chilling Ice Park.
Players get to explore the beautiful Green Valley when a Green Bison and a Red Bison charge into each other. Here, you can enjoy eight Free Spins and unlimited Multipliers.
Things then get fresh when a Blue Bison and a Red Bison collide. Here, you'll explore a chilling Ice Park where players will start off with three Free Spins and encounter some Sticky Instant Prizes and Multipliers!

In either of these new environments, the game's max win of 50,000 is available but the base game potential is something we've paid particular attention to in Bison Battle. 100x win or more is set at 1 in 1,350 while 1000x win or more runs at 1 in 35,100 so there is plenty to play for throughout the game, not just for those who may choose to utilise the bonus buy feature.
To compare, the odds are similar, if not slightly better, when compared to getting coin symbols on our popular hit Razor Shark.

As your first game of 2022, do you expect it to set the tone for further releases throughout the year?
We are really excited about our upcoming roadmap for this year, and players can continue to see more variety in game themes and features, as they did in 2021. Our main focus is to not only create fantastic entertainment that is unique and lives on, but also, to provide as much choice to players as possible.

With Bison Battle, we've started the year off with a classic and land-based theme favourite. The remainder of the year will offer content equally as exciting, but also new and different. So far, we've got Mount Magmas coming out in February, that's got big win potential, new games Big Bamboo and Nightfall in March, and Mystery Museum being relaunched with several exciting Bonus Buy options too.

Players will also get to enjoy some of our more popular themes and mechanics that have been enhanced for upcoming games, as well as a return on some of our much-loved classics - with a few surprises, of course!

The original interview can be found here.